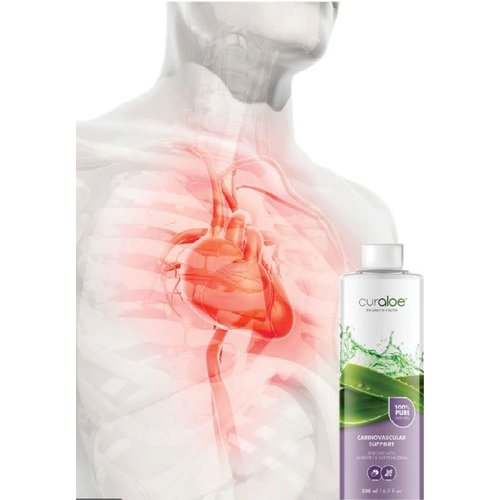 Cardiovascular Support Juice
Aloe Vera assist in maintaining blood pressure. The potassium content can relax the heart and curtail high blood pressure. It's contains collagen that helps the arterial walls dilate and reducing pressure further. Finally, the digestive enzymes in Aloe Vera break down fatty deposits on the inner walls of blood vessels, making blood less viscous and reducing the effort that the heart exerts to pump blood.
Our pure Aloe Vera health juice has been enriched with the following herbal extracts to support your cardiovascular system: 
Mandarin peel

Has calmative, relaxing and sedative working
Supports with palpitations and insomnia

Lemon peel

Is a blood fluidifying agent
Venous insufficiencies, phlebitis (inflammation of the walls of a vein)

Lavender

Has calmative, relaxing and sedative properties
Supports with hypertension palpitations
Nervousness, anxiety, insomnia, sleep disorder, headache and migraine

Sweet Majoram

Has strong hypotensive properties
Supports with tachycardia (rapid heartbeat)
Supports with hypertension (high bloodpressure)

Paper bark tree (Niaouli)

Has strong venous and lymph decongestant properties

Labrador tea (Greenland Moss)

Has strong liver decongestant and regenerator properties
Supports with inflamed lymph nodes
Supports with insomnia, depression and extreme stress
We combined all these herbs together with the AMAZING powers of Aloe Vera our Curaloe Cardiovascular Support Health Juice!