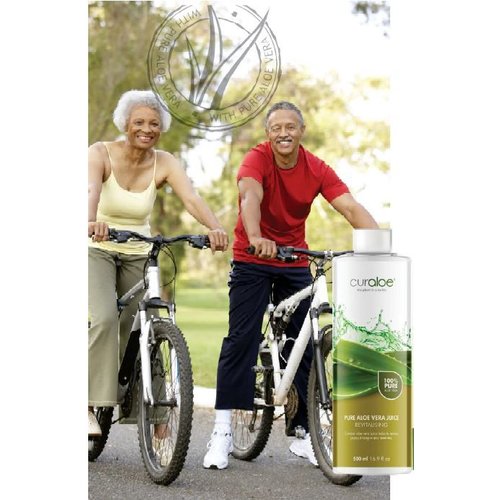 It's a natural drink extracted from Aloe Vera plants.
Benefits Curaloe® Revitalizing Aloe Vera Juice:
98% pure Aloe Vera juice
Helps to reduce physical fatigue and tiredness
Good for normal gastrointestinal function
Strengthens immune system
Aids digestion
500ml / 17.0 fl oz.
Your vitality will increase by leaps and bounds if you take this drink every day.
Usage:
Drink Curaloe Revitalizing Health Juice pure or mixed with water or fruit juices at least once a day.
Recommended daily allowance:

Kids (age 5+): 25ml / 0.8 fl oz
Adults: 50 to 75 ml per day / 1.7 to 2.5 fl oz
Revitalizing Health Juice
CurAloe 98% Pure Juice is the ultimate health drink and the perfect boost for the immune system and internal cleansing, and it enhances vitality. Contains 100% pure Aloe Vera juice.